---
Meet your new favorite cooking knife! Hand-forged by professional blacksmiths of high-quality steel, perfect blade for all your indoor and outdoor cooking needs!


Features:
[Indoor-kitchen work]

 

Nurodo Chef Knife knife is multi-purpose, whether you trim bricks, whip legs, skin or break the entire chicken, or even separate the ribs from the cowhide. Curved contours can be accurately separated. Very sharp, suitable for kitchen and outdoor barbecue.
[Soft leather sheath for outdoor use]It is well protected and can be hung on your belt. If you need to carry it with you, even in the wild (or caravan park) you like to eat well, this sturdy knife is very suitable for barbecues, Fishing, hunting, camping, survival and outdoor barbecue activities
[Super Sharp]The hardness of the arc blade is 58 HRC, which means that the slicing blade is hard and has excellent edge retention, rust and corrosion resistance. You can easily use different sharpening tools to sharpen it after long-term use.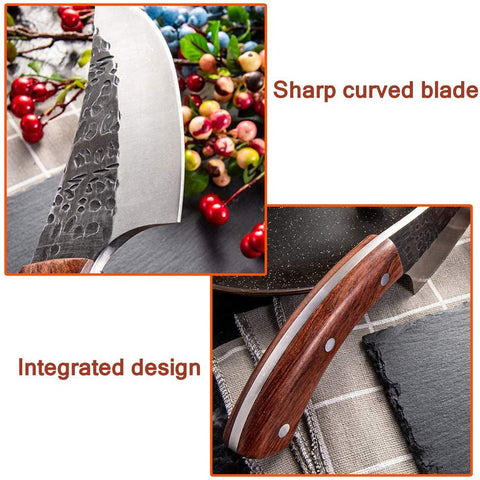 [ERGONOMIC DESIGN]The handle of knife designed by artificial science.Every curve and angle of the handle is ergonomically designed for a comfortable and ambidextrous hold. Small and flexible blade。The shape of the blade also brings you a minimal slicing resistance.
Specifications:
Blade Material: 5CR17MOV High Carbon Stainless Steel
Handle Material: High Quality Natural Rosewood
Blade Hardness Scale: 55 - 57 HRC

Each knife comes with a free brown leather knife cover that can be hung on the belt, perfect for your next camping, fishing, hunting or for any outdoor trips.
Package includes:
1*Nurodo™ - Premium Control Chefs Knife
1*sheath 
NOTE:
1. The cutting action should be done away from the body.
2. When not in use, the knife should be placed in a safe place and put in the blade for protection.
3. Don't play around with a knife.